FetishWeb.co.uk
Who We Are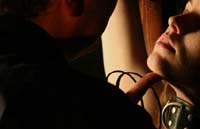 We are two very hardworking fetish loving folk who have over 50 years experience in the lifestyle between them!
We both come from an IT background and have a wide range of skills, knowledge and abilities that make FetishWeb totally unique!
We often despair when we see fantastic companies with excellent goods and services launch themselves with a very lacklustre website and our determination to do something about it saw the creation of FetishWeb. We are both active in the scene and can often be found at local munches and private parties.
Why Choose Us
1
We Understand You
As fetish people, we're already talking your language!
2
We Understand Your Customers
We know the scene and most importantly we know its people.
3
We Care About What We Do
After all, your business will also represent our business!
4
We Give Value For Money
Surviving in business is tough so we keep costs manageable